Overview
CheckMobi APIs are based on HTTP methods, which make it easy to integrate into your own products no matter what platforms are you targeting or what programming languages you are using.
If you are looking for plug&play 2FA Mobile SDKs, you can find them here: Android Remote Config SDK (opens new window), iOS Remote Config SDK (opens new window).
The Rest API described here can be integrated using any HTTP client in any programming language. For certain platforms we provide SDKs that can make your life easy. Those are open source so you can modify/customize as you wish.
API Request
Authentication
Content Type
Phone number format
For more details about E.164 standard please click here (opens new window).
API Response
HTTP status codes
Error codes
Notification callbacks
You can use this when you want to authenticate that the notifications you are receiving are not coming from a malicious source.
Tracking End Customer IP
Account API
Perform actions related to your account such as getting account details.
Retrieve account details
Authentication API
SMS and IVR
SMS and IVR are the most reliable way to integrate 2FA (Two Factor Authentication) within your application. In the next diagram you can see how SMS and IVR validation is working with CheckMobi services:

Reverse Caller ID (Missed Call or Flash Call)
In case you want to reduce your validation costs with SMS and voice calls we provide you the Reverse CLI (aka: Missed call or Flash Call) method.
In the next diagram you can see how Reverse Caller ID validation is working with CheckMobi services: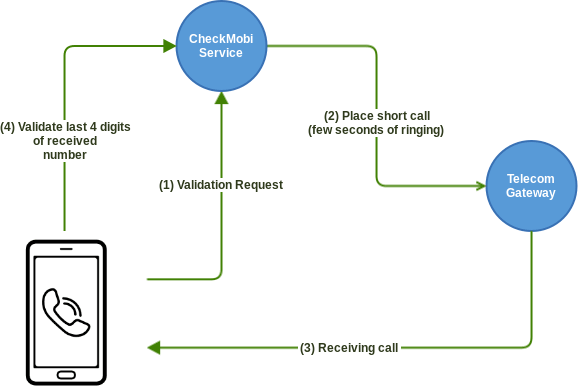 Request Validation
Verify PIN
Get Validation Status
Get Remote Config profile
SMS API
CheckMobi SMS API is a simple REST interface for sending SMS messages to over 200 countries across the globe.
Send SMS
Retrieve a message
Voice API
CheckMobi Voice API is a simple REST interface for managing outbound calls to over 200 countries across the globe.
Place Call
Retrieve a call
Hangup a call
Lookup API
Lookup API enables you to validate or perform an HLR lookup or MNP lookup for a mobile phone number.
A phone number validation is free of charge and will tell you if the specified phone number looks valid. It will also include some alternative formats to display the phone number in, the timezone where the number might belong, and information regarding the country, area, and operator where the number was originally issued (where is possible).
Mobile Number Portability (MNP) refers to a collection of technologies and protocols that allow mobile phone users to retain their phone number when changing service providers.
While MNP brings positive news for phone users, it poses challenges in terms of cost and complexity for various entities such as telecoms, SMS aggregators, and many others. These businesses heavily rely on accurate identification of the mobile network operator (MNO) associated with a subscriber's phone number for purposes like least-cost routing and ensuring correct SMS or voice termination.
As MNP becomes increasingly prevalent in numerous countries worldwide, it is no longer possible to determine the network identifier (MCCMNC) simply by examining a phone number and cross-referencing it with a numbering plan. To overcome this obstacle, our MNP Lookups service offers an effective solution.
An HLR lookup (implies additional charges) is a more accurate method that queries the mobile networks in order to retrieve which mobile number belongs to what operator in real time and see whether the number is active or not. Also will provide information regarding the portability (current network and issuing network). Using HLR lookup you will be able to keep your database clean by removing all inactive and fake numbers and communicating with your customer in a proper way.
Validate a phone number
Perform an HLR Lookup
Perform bulk HLR Lookup
Perform a MNP Lookup
Perform bulk MNP Lookup
Miscellaneous
Check Number
Get available countries
Get available prefixes